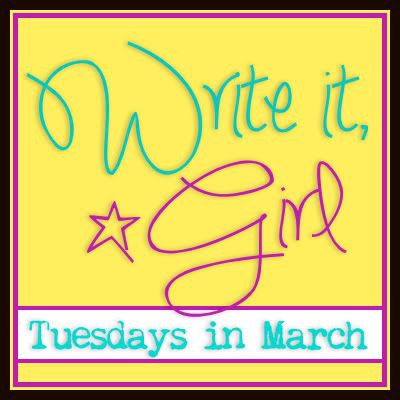 I'm not sure how I even stumbled upon Write It, Girl. I think it all started when a random tweet caught my eye that drew me into my first-ever tweet chat (@allume). I then started following some lovely women on twitter, when possibly another tweet caught my eye...
However it happened,
I'm so grateful
to have connected with such a fantastic community of women. For one thing, people are actually reading my blog from time to time!
What a novel concept!
I have been so
challenged
and
encouraged
by what others have written this past month. I've even learned a thing or two about
baseball stadiums, and of an architect who glorifies God in his designs
. I've especially echoed the thoughts of Lisa, when she asked,
Church, where are we
? Yes, really, where are we?
But more importantly,
I've found some neat women on the web with whom I will stay connected --
Nikki
,
Tara
, and
Lindsey
-- to name a few. And bless you
Tereasa
who encouraged me even when my writing was a bit
disjointed and nonsensical
.
We share so many of the same dreams, challenges and struggles.
It's comforting to know that I'm so very *not* alone in anything.
I've also met another
Wisconsinite
or
two
. Yay!
On a blogging technical note,
I've discovered that I love the
Disqus
commenting system and am installing it on my blog as well (it's importing and syncing right now). As I've been reading and commenting on more blogs than usual this last month, it has been so convenient to have
the little notifier pop up that someone has replied to a comment I'd made
.
It's also handy to log into the Disqus dashboard to see on which posts I've commented, so I can quickly
find again those posts that really spoke to me
.
But back to the topic at hand...
I love, love, love the
Write it, Girl directory
.
What a great idea
that I'm going to use on
my own blogging site for pastors' wives
very soon. (Any pw's from write it, girl are welcome to join in.)
It was nice meeting everyone and I will definitely stay in touch with your blogs! Thank you to
Stacey
and
Katie
for putting this together. It's been a blast! Lord willing, I'll see some of you in October. If not, perhaps at a later conference, after we get my recent bout with
appendicitis
paid for!
What does it mean to you to be a Write It, Girl? I look forward to reading your responses.
-rg-